This page is the brochure for your selected program. You can view the provided information for this program on this page and click on the available buttons for additional options.
Cairns, Australia;
Townsville, Australia
(Outgoing Program)
Term

Year

App Deadline

Decision Date

Start Date

End Date

Fall

2016

03/01/2016 **

Rolling Admission

TBA

TBA

Academic Year

2016-2017

03/01/2016 **

Rolling Admission

TBA

TBA

Spring

2017

09/15/2016 **

Rolling Admission

TBA

TBA


** Indicates rolling admission application process. Applicants will be immediately notified of acceptance into this program and be able to complete post-decision materials prior to the term's application deadline.
Program Type:
Direct Enroll
Language of Instruction:
English
Language Prerequisite:
No
Housing Options:
Off Campus Apartment, On-Campus Dormitory
Minimum GPA:
2.75
Program Advisor:
Office of Education Abroad (Email studyabroad@case.edu)
Courses Offered:
Accounting, Archaeology, Arts, Biochemistry, Biology, Biomedical Engineering, Chemical Engineering, Chemistry, Communication Sciences, Economics, Electrical Engineering, Engineering, English, Environmental Studies, Ethnic Studies, Finance, French, German, History, International Business, Italian, Japanese, Law, Management, Marine Science, Marketing, Mathematics, Mechanical Engineering, Music, Pharmacology, Physics, Political Science, Pre-Dental, Pre-Health, Psychology, Social Work, Sociology, Sports Medicine, Teacher Education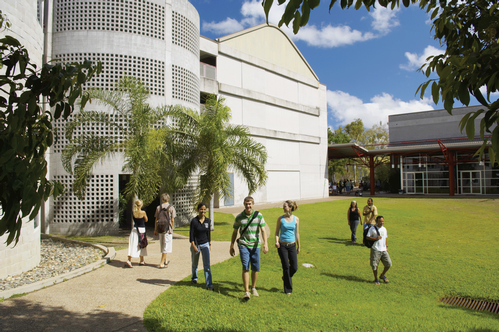 James Cook University Homepage:
http://www.jcu.edu.au/
About James Cook University:
One of the world's leading institutions focusing on the tropics, Australia's James Cook University is surrounded by the spectacular ecosystems of the rainforests of the Wet tropics, the dry savannahs, and the iconic Great Barrier Reef. Our unique location enables students from Australia and overseas to study in a diverse physical environment unparalleled by any university in the world.

Born for the tropics
Ranked in the top four percent of the world's tertiary institutions by the respected Academic Ranking of World Universities produced by the Shanghai Jiao Tong University, James Cook University is dedicated to creating a brighter future for life in the tropics world-wide, through graduates and discoveries that make a difference.

Dedicated to research
The University conducts nationally significant and internationally recognised research in areas such as marine sciences, biodiversity, tropical ecology and environments, global warming, tourism, and tropical medicine and public health care in under-served populations.

A comprehensive university
Since our establishment in 1970, we have expanded into a multi-campus institution with our main campuses in the tropical cities of Cairns, Singapore and Townsville, with smaller study centres in Mount Isa, Thursday Island and Mackay. We also have a campus in Brisbane, operated by Russo Higher Education.

Our students come from many backgrounds, promoting a rich cultural and experiential diversity on campus. Our undergraduate and postgraduate courses span the Arts, Business, Creative Arts, Education, Engineering, Law, Medicine and Health Sciences, Science, Information Technology and Social Sciences. We aim to give graduates the qualifications and skills they need for the global workforce.

Relevant to our region
We also recognise our special obligation to be relevant to our own region and have forged close linkages into the economy and social fabric of the northern Queensland. We are dedicated to ensuring that our teaching, learning and research is not only of high quality, but also delivers practical benefits to the peoples and industries of the region.
Where can I find a list of courses that the university offers?
Open the James Cook University online course catalog.
What courses am I eligible to take?
As an IFSA-Butler student, you are entitled to enroll in undergraduate courses for which you are qualified and in which space is available. Course descriptions in the online course catalog (see above) include prerequisites you must fulfill in order to enroll in each course.
For each course that you list on your preference form, be sure to check the following:
When determining which courses to take, please bear in mind that the Australian academic system is an intensive, three-year program.
First-year (1000-level) courses are appropriate for departments in which you have little or no prior experience.

Second-year (2000-level) courses will be equivalent to advanced sophomore or junior-level U.S. courses.

Third-year (3000-level) courses will be equivalent to senior-level U.S. courses.

Fourth-year (4000-level) courses and higher are part of a postgraduate degree (Masters or Ph.D.). You are not eligible to take these courses as an undergraduate student.

IFSA students are eligible to take only courses listed as "Internal" in the description. You will not be permitted to take classes listed as "Block Mode," "Limited," or "External."

Remember in Australia, U.S. fall semester = semester 2 and U.S. spring semester = semester 1. Be sure to select courses for the correct semester you are studying abroad.
What if I need to take a required course?
Please be aware that IFSA-Butler cannot guarantee that your host university will offer a particular course, or that you will be allowed to take that particular course. However, if you need to take a required course, you may indicate that it is required on your course preference form. Your IFSA-Butler program advisor will communicate your needs to your host university.

You must take a full James Cook University course load as determined by IFSA-Butler. Credit will be awarded on a Butler University transcript based on a typical U.S. full course load. All courses are graded on an A-F scale, and there is no provision for pass/fail or auditing courses unless pass/fail is the only method of assessment for the course. You are not allowed to register for online, distance education or hybrid courses.

You should also be aware that you may be charged additional fees by your home institution or host university to take or process additional credits. Taking less than a full course load may jeopardize your student status and result in personal academic repercussions and/or loss of financial aid.

The course preference form is not a registration form; it is a guideline to let your host university know which courses you are interested in taking abroad. You should discuss your course selections with your academic advisor at your home institution and have several backup choices in mind. Neither you nor the university is bound by your selections, and you will not officially register for courses until you arrive on campus.

What do I need to know about exams?

Because of the differences in the academic systems, you will not know your exam schedule until after you arrive at your host university. Please refer to your program calendar to review the exam period for your host university. Your host university's policies do not permit you to reschedule any exams, request alternate assessments or arrange to have your exams proctored in the United States. If this occurs, IFSA-Butler cannot assist you in conducting a grade query or academic follow-up for the course in which you made this arrangement. You will need to complete and submit all academic work prior to departing the program

This program utilizes a different grading scale and credit system than the USA.

Grading Scale:
| Grade | Grade Description | U.S. Grade Equiv |
| --- | --- | --- |
| HD | High Distinction | A |
| D | Distinction | A |
| C | Credit | B |
| P | Pass | C |
| PC | Conceded, Conditional or Compensatory Pass | D |
| P- | Borderline Pass (Engineering only) | D- |
| NS | Failure, Supplementary Examination Granted | F |
| N | Failure | F |
| | |
| --- | --- |
| Points | US Equivalent |
| 3 points | 4 credits |
JCU requires a minimum of 9 credit points (3 classes). A typical full load is 12 points (4 classes).
Student Life:
Adjusting to life as a student

It can be a challenge adjusting to life as a uni student. You may be coming straight from school or a gap year, you may be living away from home for the first time, you may be coming from another country, you may be returning to study after full-time work or be studying off-campus. The transition to uni life brings changes and adjustments – emotional, financial and academic.

At JCU we understand this, and don't expect you to be on top of everything straight away. Help is always available and we encourage you to access the many student support services.

The following are key factors:
Time – whatever your situation, you need to become effective with your time. Plan to spend at least 10-12 hours each week on each subject. This includes any face-to-face teaching plus reading and research for each weekly topic, revision of lecture notes, planning and drafting assignments and revising for exams.

Independent learning – uni study requires you to be an active and independent learner. This is different from how you learnt at high school and might push you outside your comfort zone. Lecturers expect you to engage with ideas, theories and evidence and to develop your own thoughts and arguments on many topics. One of the benefits of uni study is becoming a critical thinker.

Set goals – setting short and long-term course and career goals will help you to stay focused. Remind yourself about what you want to achieve, and talk to lecturers, careers advisers and student mentors about how you can get there. Supplementing your study with volunteer work, an overseas study exchange or work placements can add depth to your study area and enhance your resumé.

Supportive networks – you need these to succeed. Explain to your family, friends and partner about your goals, why you are making this change and your new commitments.When you achieve milestones such as passing assignments and subjects, celebrate and thank them! Invite your family to find out more about JCU by attending the Parents and Partners session in O Week (check the Orientation Program) or by visiting the Parents and Partners web pages. Getting to know your fellow students is also a really important part of succeeding at uni so you can create study networks and new friends.

Finances – financial challenges are usually part of student life. Despite the best planning and budgeting, emergencies do happen. Your support networks will be important in these situations, and so is knowing how to get help at JCU and government agencies.
Tap into support services
JCU has a variety of support services that are free and available for on- and off-campus students. The following services may be helpful in your first months at uni:
First Year Coordinators – these are lecturers who are located around the University. They are trained to help first year students with questions about your course and study as well referring you to the appropriate person or service to get you other issues.

JCU Counselling Service – for help with health, counselling and other issues that may impact on your ability to study.

JCU Careers and Employment Service – to register with Career Hub, the online job search for students.

Learning Skills – this is the place to go, on campus or online, for free study skill tips and resources, workshops, online resources and to book a one-on-one consultations with a learning advisor.

Student Mentor Leaders – if you did not meet a mentor in O Week, contact Mentor Leaders to find a suitable mentor for your study area who will share knowledge and tips.

Indigenous Student Support Officers – professional Indigenous support staff are based in faculties in Cairns and Townsville to help Indigenous students with academic, personal and tutorial support.
Life in Townsville:
Around 11,500 students study at JCU Townsville, including over 1,500 international students. The campus is located in the suburb of Douglas, in a 386-hectare natural bush and parkland setting, 13 kilometres (8 miles) from the central business district.

JCU Townsville houses teaching and research facilities, the main JCU library, cafés, bars, fitness and sporting facilities and a wealth of student clubs and societies. Around 1,400 students live on campus in colleges and halls of residence, giving the campus a true community atmosphere.

Townsville is Australia's largest tropical city with a population of around 190,000. It's a thriving coastal city and port, and a stepping-off point for visiting the Great Barrier Reef. The resort regions of the Whitsunday Islands and Mission Beach are within easy reach, as are historic outback towns such as Charters Towers
Life in Cairns:
Over 4,000 students study at JCU Cairns, including about 380 international students. The campus location is spectacular – surrounded on three sides by rainforest-covered mountains. Located near the northern beaches in the suburb of Smithfield, the campus is 15 kilometres (9 miles) north of the city centre.

JCU Cairns houses state-of-the-art teaching and research facilities in an attractive setting. Facilities include an impressive library and information technology building, health science and science laboratories, student refectory, café, licensed bar, gym, sporting oval and basketball court.

With over two million visitors annually, Cairns is one of the most popular tourist destinations in Australia. Attractions include two World Heritage natural environments – the Great Barrier Reef Marine Park and the Wet Tropics ancient rainforests; nearby resort regions include Port Douglas and Mission Beach; the picturesque Atherton Tablelands and outback Queensland are within easy reach.
Finances:
While abroad, students continue to pay their Case tuition rather than the tuition at their new institution. In addition there are several expenses students' financial aid can potentially help to fund. These are listed in the attachments below.
JamesCookYear.pdf
JamesCookFall.pdf
JamesCookSpring.pdf